Before we moved to a 100% paperless company, here is how documents were approved/signed in our company:
Céline, our office manager, received a document by email.
She printed it.

She walked to a manager's office to request a signature.

She either interrupted the manager to sign the document directly, or she had to come back later.

She went back to her office and scanned the document.

Then the document had to be uploaded in our document management system.

Finally, she had to find the requestor email and send the PDF.
For centuries, paper has been the primary source of communication. But, now, it has become more of a liability than an aid. When you sum it all, we lose, on average, 33 minutes of work per document, not factoring the time to buy paper and the printers to maintain.
Becoming a paperless company is not only good for the environment, but it also boosts our efficiency, wastes fewer resources, and fastens the processing of documents.
Now, the same signature request is possible in 2 minutes on average, and a maximum of 5 clicks:
Céline forwards the email to the document gateway.

She drags & drops areas that should be filled by the manager, and clicks "Send".

The manager can complete the document and sign in one click.
The rest is automated: the manager is followed-up if he forgets to sign a document, indexing the final PDF in the document management system, and sending the document to requestors. The manager can even sign the document from his mobile, which usually speeds up the process for emergencies.
Processing Incoming Letters
To organize our inflow of documents we use Odoo's Documents app. This application has all the tools we need to process documents in batches: email gateway, pre-configured mass actions, PDF splitter, previews, etc.
Every morning, we push all processing documents in Odoo's document management system. We could upload documents manually, but most of the time, we use the email gateway. Every time an email forwards to the email addresses of the gateway, Odoo will create a document for each attachment. So, we send everything on that platform: emails containing documents to process, or scanned letters. (modern scanners allow to send the scanned documents by email)
To define new email addresses for your inbox, we use the menu Configuration > Emails & Links from the Documents app. By default, two email addresses are defined: documents@yourcompany.com for the primary inbox, and finance@yourcompany.com for documents to be processed by the accounting and finance department, such as vendor bills. We recommend assigning an email address for each department that handles incoming documents.
The good news is that there is nothing technical to set up if you use Odoo online! We just set up a new email in the interface, and it works right away—no need to configure an email server.
Organizing Information in Every Department
We use Workspaces to organize information per department: administration, finance, hr, etc. In each workspace, we use tags to manage the status of the document's process: Inbox, Processed, Deprecated. That way, it's easy to see if you have documents to process (3 in the inbox of the following example)
While setting up our workspaces, we had to define the roles which are allowed to email documents to the Workspace app. Is it restricted to employees only, or do we allow vendors to send bills directly to this address? To limit incoming emails to employees only, you have to configure the Workspace from the menu Configuration > Workspace. In the Access Rights tab of a workspace, set the field Write Groups to "Employees."
When processing incoming documents, there are two possible flows, whether we receive them by email or from the post. If we accept these documents by email, we just forward emails to the gateway: inbox@yourcompany.com. For regular letters, our scanner follows configurations to send all documents to the same email address. After scanning documents, we use the letters as scrap papers.
Periodically, our office manager checks what she has to do in the inbox. We configured tailored actions for each department to process documents faster: request a signature, convert to a vendor bill, create a task, send to another department, require a validation, etc.
When we select a document, these actions appear in the right menu. We can trigger them in one click, and one action can perform multiple tasks very efficiently,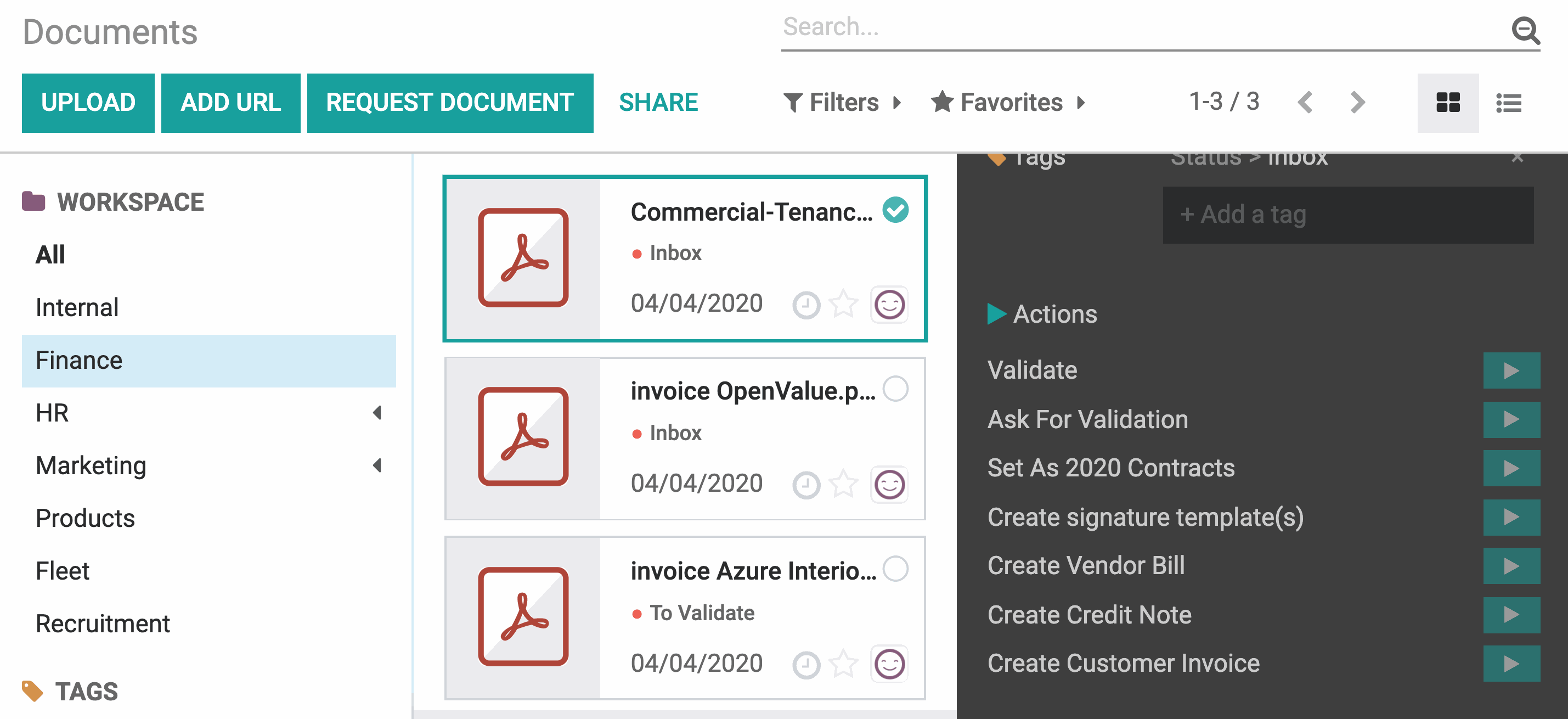 To define our actions, we use the menu Configuration > Actions in the Documents app. For each action, we have to define the conditions for which the action is available (e.g. when the document has the tag Inbox), and what the action to perform:
Set metadata on the document, through tags, workspace, owner, contact.

Create an activity to do for someone, now or in the future.

Fill the document and sign directly.

Create a signature request for someone else.

Use OCR and AI to create a bill or an invoice.

Create a task in a specific project.

Create a product based on product sheets, etc
We recommend that every action you create removes the tag "Inbox" and sets the tag "Done". That way, you continuously clear your inbox by using these one-click actions.
We can also communicate with other colleagues directly on the document by clicking on the O icon. In addition to discussions on the document, we can also create future activities. I use that when I ask someone to validate the document; I create a reminder in the future to check if it's done.
Processing hundreds of vendor bills at once
We use this scanner at work: HP LaserJet Pro MFP M148dw. If you usually receive a large number of papers, we recommend a scanner that can scan multiple pages at once. We scan dozens of pages at once and use the Odoo split tool to process documents in batches.
Let's say our finance department has to process 50 vendor bills. They will scan everything at once, in one single shot. As the scanner follows configurations to send the result by email, there is nothing else to do than putting papers in the scanner rack.
In our inbox, we have one single file containing multiple bills. To process all of these bills at once, we use the split tool, using the scissor icon.
We can even select multiple files and use the split tools on all of them at once. To do so, we can click on the top-right selection icon of each document. Or, we can select the first document and SHIFT-click on the last one.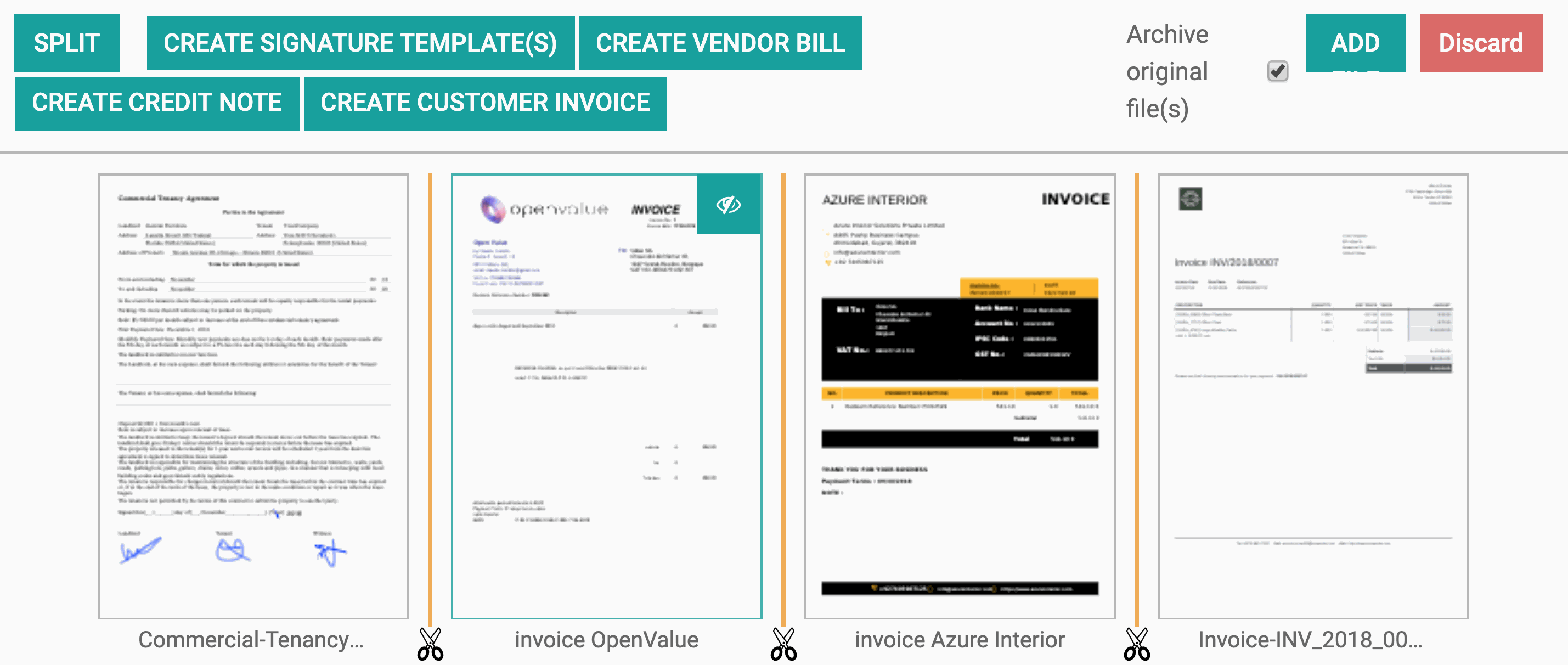 First, we process all vendor bills. Start by clicking on the scissors icon in between multiple pages belonging to the same bill. Then, hide documents that are not vendor bills so that they won't be processed.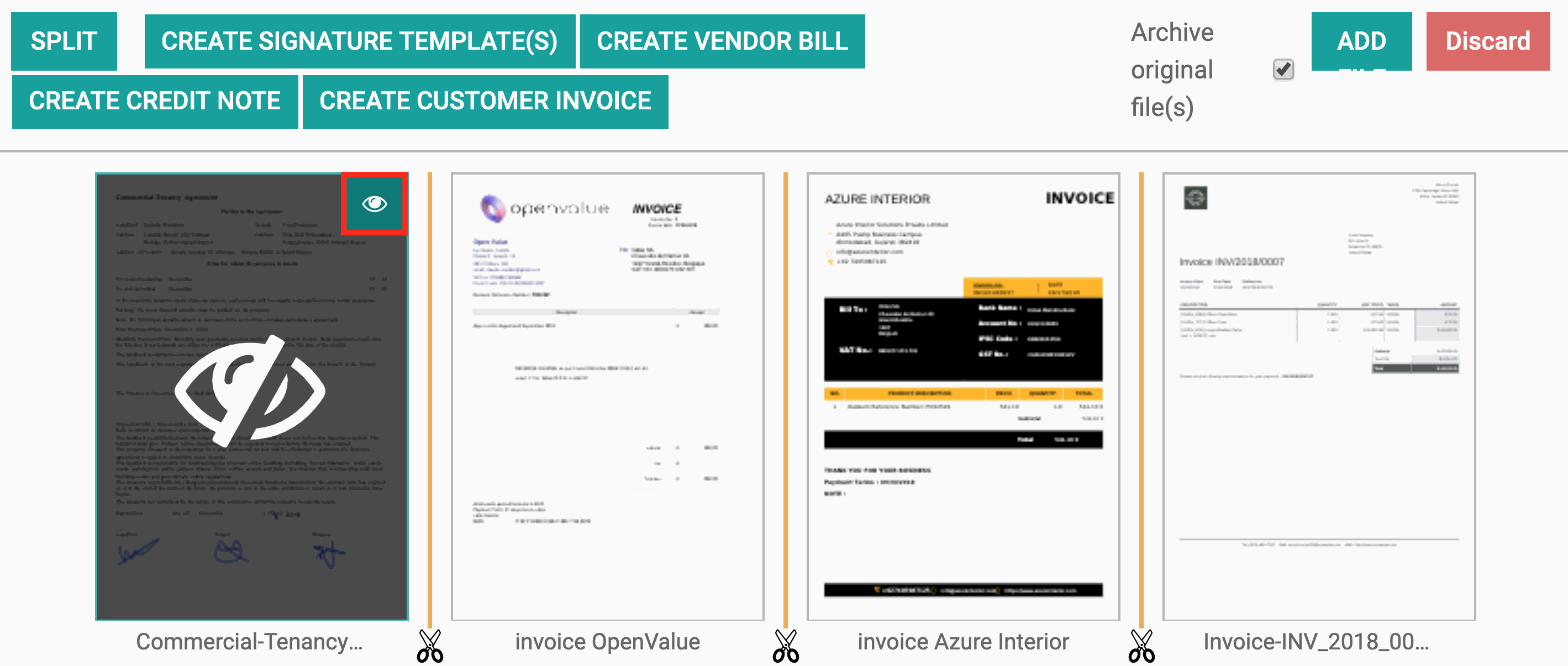 Once done, we use a predefined action "Convert to Vendor Bill". That way, all bills process automatically: the documents sets with the right tags, draft bills forms in accounting, and Odoo's Artificial Intelligence algorithm will fill in all the fields, with a 95% accuracy.
Odoo will then open the remaining pages, the ones we hide so that we can process them the same way. In the last record, we processed 48 documents in 12 clicks!
Processing a Document to be Signed
To process documents to sign, we use the Odoo Sign app, which is fully integrable with the Documents app.
Let's say that, in our inbox, there is a contract for which we need the signature of a manager. Once we select the file from the document browser or the split tool, we can trigger the action: "Request a signature".
Then, Odoo opens an interface allowing us to drag fields where we want the manager to fill data. You can use different types of fields like text, struck options, initials, or a signature.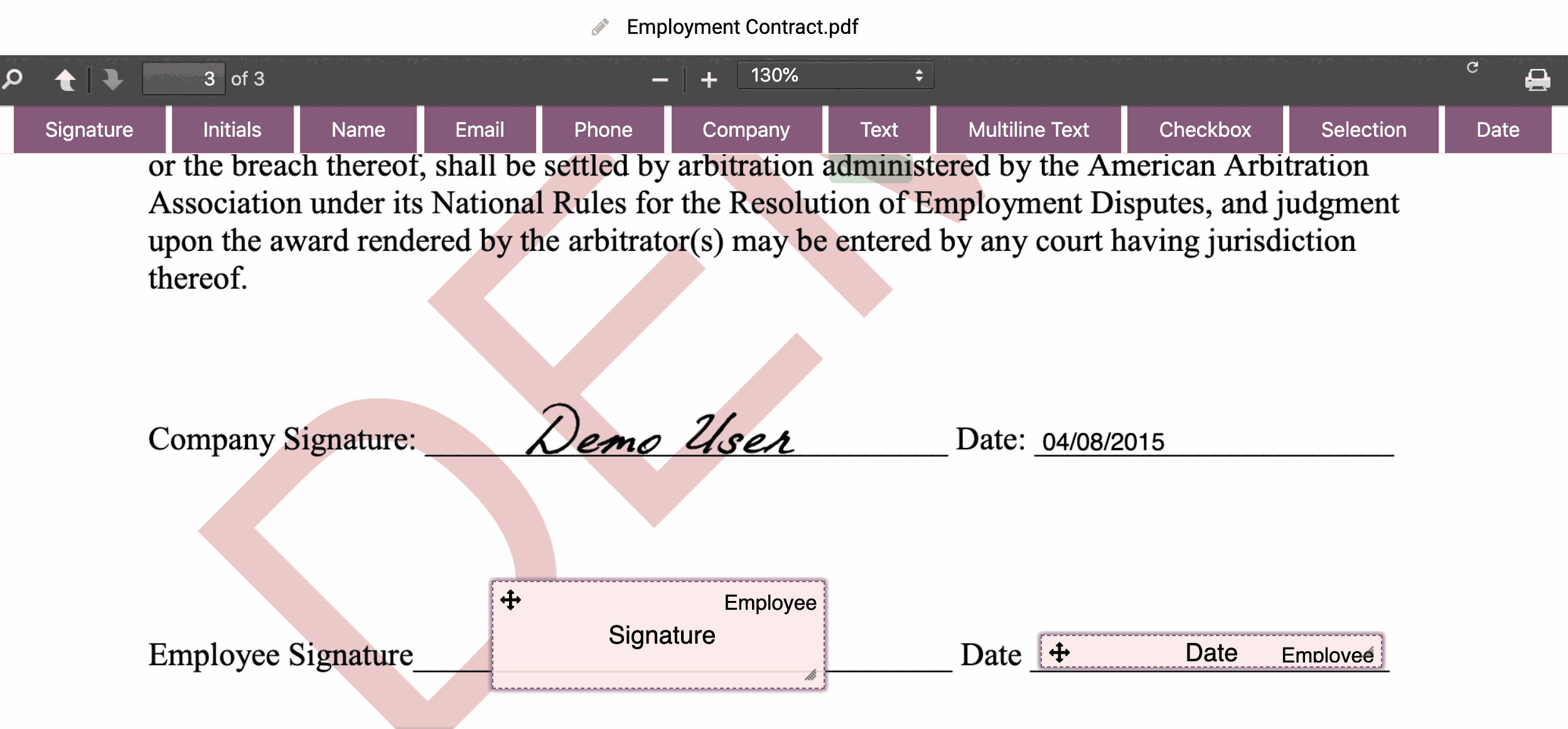 Once done, we click 'send' and provide the manager's email address. He'll be able to read the document, fill in the blanks, and sign it. That's it! Nothing else to do:
no need to store it in your document management system, it's done automatically

no need to remind your manager to sign, Odoo creates the next activity to remind him periodically

no need to send the signed documents to vendors; they will receive the signed copy automatically if you put them in CC
The flow is much faster than working with paper documents as there is no back and forth between the different people. The secretary prepares the documents, and she is done. Nothing else is needed after as Odoo handles the rest of the process.
To find wastes in your processes, look for the paper.
We have seen how we use the Documents app to process our daily inbox. But other processes that can be improved because they heavily rely on papers. Here are some examples:
Employee expenses: To track tickets, you should use the Odoo Expenses app. It allows you to record an expense simply by taking a photo of your tickets on your mobile.

Sales contracts: Use electronic signature or online payments on your sales order to avoid asking your customers to sign manually. If you sell using a complex contract, you can use the Odoo Sign app, and it's "share" feature to have a template reusable for each customer.

Purchases: To manage purchase orders, you can use the Odoo Purchase app.

Manufacturing processes: Use the work center control panel with tablets in each workstation in your manufacturing line to avoid workers using paper for worksheets or quality documents.
When looking for inefficiencies in companies, two aspects of possible improvements are spreadsheets and papers. If a process relies on one of those, there are great chances that it can be improved.
To assess your potential savings becoming a paperless company, check the time savings evaluation tool. You can fill your number of documents to process, and you'll have an estimation of the improved efficiency.